We're Getting Mutants in the MCU - The Loop
Play Sound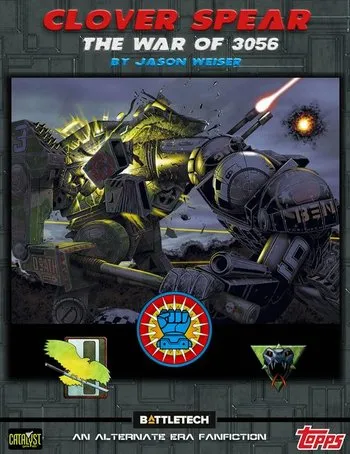 Clover Spear - The Story of the '56 War
Facts
Author
Jason Weiser
Co-Written by Gladius and Yellowhammer
Series Name
Clover Spear
Alternate Universe Name
Clover Spear AU
Year Written
October 15th, 2015 to Present
Story Era
Clan Invasion Era
Overview
[
]
Clover Spear - The Story of the '56 War is a fan story featuring the Federated Suns First Prince, Hanse Davion. In this rendition of canon story, it tells the tale of a retired Hanse Davion whom while in retirement, plots means to end the threat of the Clans.
This is a "What If" story originally written on the Battletech Official Forums.
Story was created and written by Jason Weiser better known as panzerfaust150. There were Omakes from Gladius and Yellowhammer who wrote entries through the series run.
The author is using this version as the basis for the "definitive version" which will basically be some cleanup and minor edits. This will be released later as a PDF.
Canonicity
[
]
All events prior to the Clan Invasion up to 3053 remains the same, however instead of dying of heart attack, Hanse Davion lives and resulting changes effects by surviving.
Notable Characters
[
]
First Prince Emeritus Hanse Davion, Former Leader of the Federated Suns
First Prince Victor Steiner-Davion, Current Leader of the Federated Suns, and heir to the Lyran Commonwealth throne.
Katherine Steiner-Davion, Sister to Victor, and regent to the Federated Commonwealth
Omi Kurita, First born daughter of Theodore Kurita, Coordinator of the Draconis Combine, and leader of the Order of the Five Pillars.
Sun-Tsu Liao, Chancellor of the Capellan Confederation
Alexis Shang, Special Adviser to Sun-Tsu Liao
Chapter Links
[
]
Notes
[
]
Wiki Editor Note

This book's chapters have been edited by Outsider7724 to correct misspellings and grammar errors only.
External Links
[
]